(Reuters) - Dmitry Medvedev is glimpsed exchanging confidential smiles with Barack Obama as sinister music plays. The dead body of Russian ally Muammar Gaddafi, driven from power by the West, is dragged through the dirt. A camera homes in on the prime minister sweating and shifting uneasily in his chair.
The word 'treason' is uttered by a narrator.
A more than hour-long Internet video employs methods reminiscent of the Soviet past in excoriating a prime minister already laboring in President Vladimir Putin's shadow.
Using archive footage and apparently recently conducted interviews, it presents Medvedev as weak and ready to surrender Russian interests to a conniving America - "no loyal ally", in the words of ex-premier Yevgeny Primakov, one of those who seems to have spoken to the anonymous film-maker.
There have been questions about Medvedev's future since he handed the powerful presidency back to Putin last year and took over as head of government after four years in the Kremlin.
Soon afterwards, Putin publicly reprimanded two of Medvedev's ministers and fired one of them. More recently Defense Minister Anatoly Serdyukov was sacked over a multi-million dollar corruption scandal.
On Thursday, Putin was shown on state television gazing towards the ceiling while Medvedev delivered his five-year vision for Russia's economic development.
The video, professionally produced, specifically condemns Medvedev for having allowed the passage of U.N. resolutions that led in 2011 to the overthrow and killing of Libyan leader Gaddafi, one of Russia's top clients for oil and arms deals.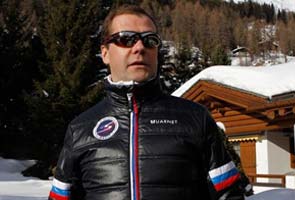 Medvedev has defended himself in the past over such accusations, arguing that the West had exceeded the parameters of the resolution in launching air strikes in support of rebels.
"Russia didn't only lend its support to the voice of the international community. Dmitry Medvedev tried to provide a more valuable service and it turned out to be treason," the narrator says, portraying Medvedev as a tool of the West.
LOST ALLY
Leonid Ivashov, a retired general and now head of the Academy of Geopolitical Issues, is no less damning about the former president's role in Gaddafi's fall: "We lost an important ally, an important strategic partner and billions were lost to our economy and defense industry," he says in an interview.
The video shows extended footage of the body of Gaddafi, Russia's ally, being abused by rebels; it then cuts to unrelated archive film of U.S. Secretary of State Hillary Clinton looking at her cellphone, beaming and exclaiming "Wow!"
Commenting on the video, Maria Lipman, analyst at Carnegie Moscow Center think tank, said: "There are rumors that have circulated for a while that he would not last long in his position of prime minister.
Who produced the video is a mystery. It was published from a YouTube account bearing the double-headed eagle symbol of the Russian state and in the name of Deputy Prime Minister Dmitry Rogozin, who has locked horns with the premier on military spending; Rogozin, however, denied having any hand in it.
The movie recalls a public rift between Medvedev and Putin over Libya, when Putin likened the Western mission to a crusade and Medvedev rebuked his mentor for "unacceptable" language.
Former prime minister and ambassador Primakov, speaking in the video, suggested that Medvedev should have consulted more with Putin before making the decision on Libya: "Those kinds of things should be agreed at the top. So that it's not just the decision of one person," he says.
The video takes the criticism of Medvedev to the heartland of Putin's electoral support, the industrial working class.

The narrator accuses Medvedev of cancelling contracts for the delivery of weapons to Libya and shows workers at a factory outside Moscow complaining: "Apart from the material losses, there is loss of morale as well. When you feel that everything you worked for over so many years is no longer needed," says Leonid Sizov at the engineering plant of KB Mashinostroyeniye.
Some also directed their wrath against Putin himself:
"Who brought this baby to power and who is keeping him there now?" wrote one person commenting on the video. "That someone should first of all answer for his smug, imbecile protege?!"