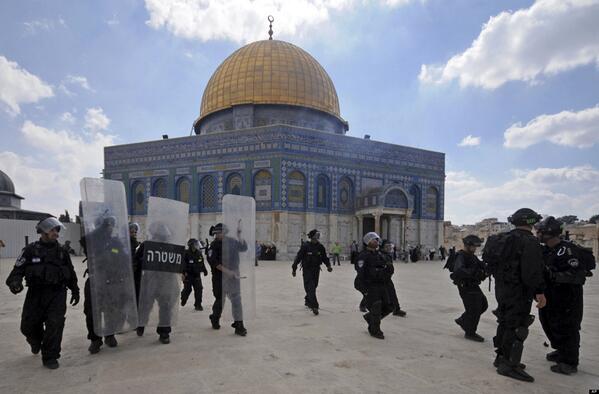 Clashes have erupted between Israeli security forces and Palestinian youth in East Jerusalem a day after a gunman on a motorcycle shot and seriously wounded a far-right rabbi.
Israel announced shutting down of the al-Aqsa mosque following Wednesday's shooting of Yehuda Glick.
The mosque remained closed "until further notice", Israeli public security minister said, an announcement that prompted a strong reaction by Palestinian President Mahmoud Abbas.
The move is tantamount to a "declaration of war," Abbas said.
"This dangerous Israeli escalation is a declaration of war on the Palestinian people and its sacred places and on the Arab and Islamic nation," his spokesman Nabil Abu Rudeina quoted him as saying.
Israeli police on Thursday shot dead Mutaz Hijazi, a Palestinian whom the police claimed was responsible for firing at the American-born rabbi who is known for his lobbying to secure Jewish prayer rights at the al-Aqsa mosque compound.
Sources told Al Jazeera that Hijazi, 32, was killed in al-Thori neighbourhood in East Jerusalem.
He had spent more than 11 years in an Israeli prison - mostly in solitary confinement before his release in 2012, according to the Palestinian Prisoners Society.
The developments threaten further escalation in Jerusalem, which has been fraught lately with clashes between Palestinian protesters and the Israeli police.
Al-Aqsa mosque compound houses Islam's third holiest site, but is also revered as the most sacred spot for Jews who refer to the site as the Temple Mount.
Although non-Muslims are allowed to visit the site, Jews are not allowed to pray there.