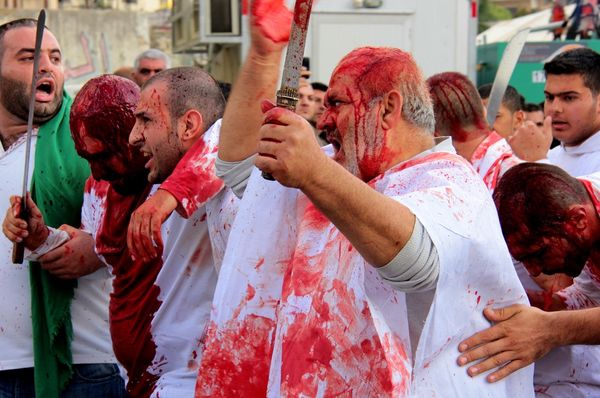 Muslim Bloody Ritual in Iraq, Greece, India, Lebanon and … St. Louis, USA
After coming closer together following meetings between their leaders, Greece and Turkey are at odds over a proposal by Turkey Prime Minister Recep Tayyip Erdogan to re-open the Halki Seminary if Greece revives two mosques in Athens and allows Muslims to elect their own muftis.
Erdogan and Greece Prime Minister Antonis Samaras enjoyed cordial relations and agreements on a number of contentious issues, but religion and ancient enmities are proving more difficult to conquer. Both have said they want to overcome the vexing difficulties presented by religious questions.
Greece rejected the seminary-for-mosque tradeoff even though Samaras is the first Greek leader to push through a planned renovation of an Athens building for the country's first official mosque and has supported religious freedom.
But the Halki Seminary, closed in 1971 after Turkey fell out with Greece over Cyprus, carries special significance for Greeks, who accuse Turkey of retreating from several hints that it would reopen.
There were hopes that Erdogan's recently unveiled democratisation package would include the re-opening of Halki. The seminary's absence from the package was especially disappointing in the non-Muslim community, which says that the issue is a "bargaining chip" for the rulers to resurface under the "reciprocity" concept.
That is legally based on Article 45 of the 1923 Treaty of Lausanne that states, "The rights conferred on the non-Muslim minorities of Turkey will be similarly conferred by Greece on the Muslim minority in her territory."
In addition to opening the two mosques, Erdogan insisted on the election of muftis in Western Thrace where more than 150,000 Turkish Muslims live.
"When we decide to return something, we also have a right to expect something as well," Erdogan said.
He also said Turkey has issued citizenship to 18 clerics, but appointment of muftis in Western Thrace has been made by Greek authorities.
"As I don't appoint the administration of the patriarchate, you can't appoint the muftis," he said.
Laki Vingas, a council member of Turkey's Directorate General of Foundations, told
SETimes
that the re-opening of Halki should have been kept aside from politics as a human rights issue.
"We, as non-Muslims living in Turkey, are tired of speeches about reciprocity. We feel the same sadness when covered ladies had to go abroad for their university education and when non-Muslim people had to leave these territories because they cannot be trained as clergy in Halki seminary," Vingas said.
Orthodox clergy used to train in Halki, located on an island off Istanbul. Turkey, a country where Muslims make up 99 percent of the population, recently decided to give back to the seminary lands seized in 1943.
"Greece's position on the subject (the re-opening of the seminary) is clear, (it is) in accordance with international law and has been expressed on numerous occasions," Greece Foreign Minister Evangelos Venizelos said. Any further public discussion on the matter would be "counterproductive," he added.
For many Greeks, Halki represents bitter memories of nearly four centuries of Ottoman Turkish rule and the rise of mosques replacing churches across the land. The Greek Orthodox Church and the neo-Nazi Golden Dawn party, the country's ultra-nationalists, oppose the government's plan to put up 1 million euros to create an official mosque.
"Halki is of crucial importance not only per se, but also for the existence of the Eucumenical Patriarchate of Constantinople (Istanbul) since many patriarchs and bishops of the Eucumenical Patriarchate have traditionally been students in Halki," Antonis Klapsis, head of research for the Konstandinos Karamanlis Institute for Democracy in Athens.
"I cannot see any connection between the Halki issue and the issues raised by Erdogan, mosques in Athens, the appointment of the mufti in Greek Thrace," he added. "Erdogan is just trying to find an excuse in order to avoid reopening Halki and most importantly in order to avoid international pressure."