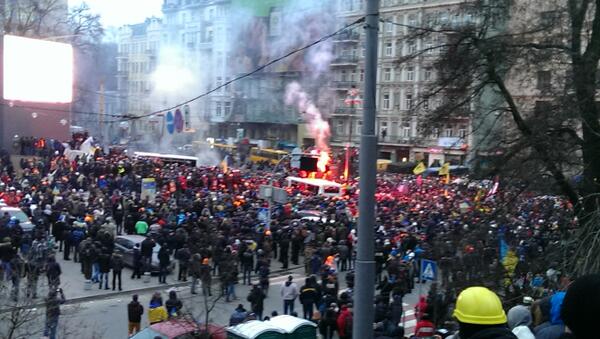 Ukrainian protesters clashed with police in Kiev after at least 10,000 people took to Independence Square for an anti-government demonstration. Police retaliation with tear gas and water cannons was prompted by an attempt to storm the government quarter.
What started as a peaceful demonstration on the city's Independence Square, or Maidan, with heated anti-government slogans being shouted and the announcement that the opposition was creating a "people's assembly," turned into violent clashes with the police later Sunday.

Protesters wearing orange helmets and wielding sticks and flares clashed with cordons of security forces surrounding government buildings and attempted to turn over a police bus. According to police, radical activists were also throwing smoke grenades.
Opposition leader Vitaly Klitschko (C) reacts after he was sprayed with a powder fire extinguisher during a pro-European integration rally in Kiev January 19, 2014