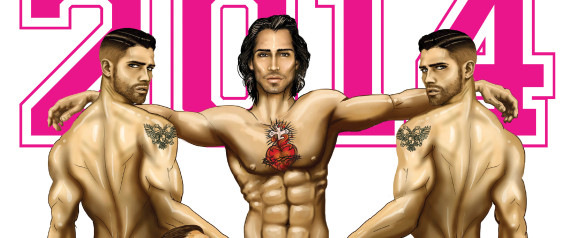 On the eve of the 2014 Winter Olympics in Sochi, Russia, a group of Eastern Orthodox Christians is protesting Russia's anti-gay laws in a calendar featuring naughty nude drawings of gay men.
Orthodox Calendar, sold primarily online, features colorful illustrations of gay men in eye-catching costumes — think tutus and a Captain America cape — and provocative poses and settings that sometimes include crosses and crucifixes.
Ten percent of the proceeds from the "Bigger, Harder, Better!" calendar by the Hungarian artist Tienne will be used to battle discrimination against gays in Russia.
While there have been other collections of religious pin-up men — think manly Mormon missionaries, nice Jewish boys to bring home to Mom, even "Roman beefcake" Catholic priests — the Orthodox Calendar aims to make a political point against the Orthodox churches that the creators say are complicit in trying to keep gays and lesbians in the closet.
"Our wall calendars represent the very first organized global effort against homophobia in the Orthodox Church," Magdalena de Iona, a spokeswoman for Orthodox Calendar, wrote in an email interview. "Through them, we seek to counteract the negative and outdated influences of most of the Orthodox Church leadership."
A second 2014 calendar featuring full-color photographs of gay Orthodox men posing as priests or their tanned, tattooed and totally naked admirers is intended to support gay marriage, de Iona said. Both calendars are sold online and cost about $20.