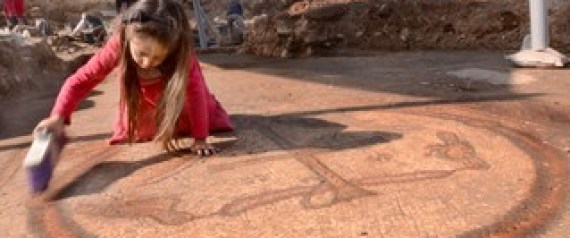 An ancient Christian church complete with stunning 1,500-year-old mosaics has been found in Israel. | Israel Antiquities Authority
Excavations prior to the construction of a new neighborhood in Israel have turned up the ruins of a 1,500-year-old Christian church with a beautiful mosaic.
Archaeologists found the Byzantine-era church in Aluma, a town 30 miles south of Tel Aviv, according to a press release from the Israel Antiquities Authority. The IAA has spent the past three months carefully excavating the site.
"An impressive basilica building was discovered at the site, 22 meters long and 12 meters wide," Dr. Daniel Varga, the IAA archaeologist in charge of the excavation, said in the statement released this week. "The building consists of a central hall with two side aisles divided by marble pillars. At the front of the building is a wide open courtyard (atrium) paved with a white mosaic floor, and with a cistern.
Leading off the courtyard is a rectangular transverse hall (narthex) with a fine mosaic floor decorated with colored geometric designs; at its center, opposite the entrance to the main hall, is a twelve-row dedicatory inscription in Greek containing the names Mary and Jesus, and the name of the person who funded the mosaic's construction." Experts were particularly excited about the site's tile artwork, which included depictions of animals, geometric and botanical designs, and Christian symbols.
Churches from this era did not work crosses into floor mosaics in order to prevent people from stepping on the symbol for Jesus Christ, excavator Davida Eisenberg Degen told LiveScience. However, Degen said researchers found a beautiful mosaic centering around a Christogram, a "type of monogram of the name of Jesus."