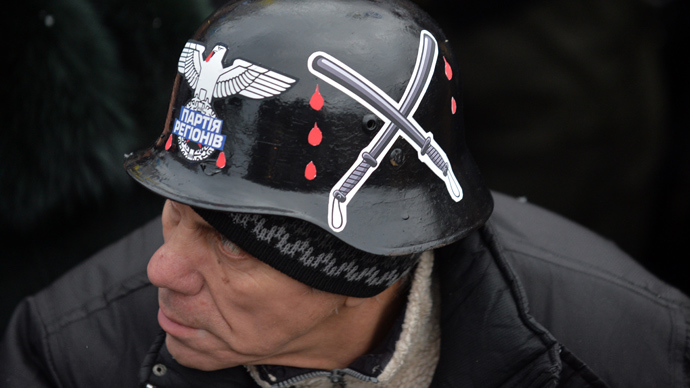 Arab-Israeli students in the Ukraine city fear for their lives, as gangs of skin heads viciously attack foreigners. 'Gangs threaten everyone, Arabs and Jews. We're afraid to go out after dark,' one says.
Israelis who study in Ukraine are afraid to leave their apartments following neo-Nazi riots around the city, they say.

"I went out with my brother to play in a nearby yard, and on the way back, five minutes away from home, we were assaulted by more than 30 people aged 25-30, who came out of an alley. My brother, 19, managed to escape, but they circled me and gave me a terrific beating," one student recounted. According to them, they are having difficulties getting in contact with the Israeli embassy in the capital Kiev.





Some 200 Israeli Jews and Arabs study at the university. "We're all in contact with each other," he said. "The Israeli students are afraid to leave the house and go to school. We have no one to turn to. We held a gathering of the Israeli students yesterday to decide what to do. Many didn't show, because they are too afraid to leave the house."
Shafa from Bu'eine Nujeidat in northern Israel is the father of a 21-year-old medicine student in Odessa. "She was not personally attacked, but she didn't leave the house for three days, per our recommendation," he said in worry. "She said the neo-Nazi gangs are threatening foreigners and saying they are there to take their jobs."
The Foreign Ministry said in response: "There are many cases of xenophobia in Ukraine. We are familiar with the report and we're investigating it."
The West has been turning a blind eye to all these neo-Nazis operating in Kiev, just like they were saying that there were no jihadists among Syrian opposition.
The Ukrainian protesters clashed with police in Kiev after nearly 10,000 people took part in an anti-government demonstration at Maidan, or Independence Square, on January 18-19. What started as a peaceful demonstration turned into violent clashes with the police later Sunday.
The most aggressive group of protesters, known as nationalists from Oleg Tyahnybok's party, started throwing stones, debris and Molotov cocktails directly at the police, and using bats to beat the policemen.