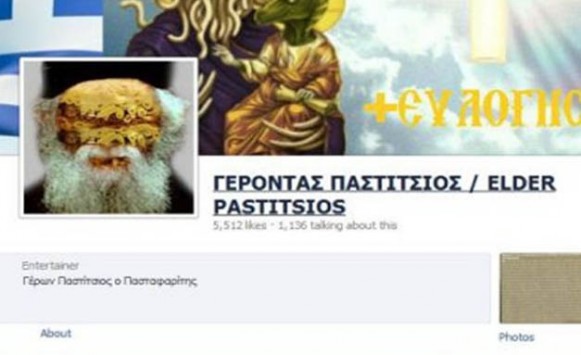 An Athens court sentenced blogger Filippos Loizos to ten months prison suspended for 3 years, after found him guilty of "insulting religion". The blogger was known as Elder Pastitsios, who was making fun of the almost mythical monk
Elder Paisios.
Philippos Loizos, 27, was arrested in September 2012 on charges of "malicious blasphemy and insulting religion" through Facebook. The arrest came "after thousands of e-complains from residents of different countries of the world", so the police press release. The 27-year-old had created a page on Facebook named "
Geron Pastitsios
" (
Elder Pastitsios
), an mock name for
Greek Athos monk, Elder Paisios (1924-1994), famous about his prophecies on Greece, the Greek nation and the Orthodox Christianity.
Pastitsio is a Greek dish with pasta, minced meat and bechamel sauce.

The arrest triggered an outcry on internet and thousands of people speak of unprecedented censorship and blame Samaras' government for complying with the demands of extreme-right Chrysi Avgi (Golden Dawn).
On twitter there has been talks that "Geron Pastitsios trolled Greek nationalist blogs, planting hoax accounts of 'miracles' which they reproduced without questioning".

Last Tuesday (Sept 18), GD posed a question at the Parliament complaining about the Facebook page where the administrator insults, mocks and tries to humiliate the sacred figure of Greek Orthodoxy, Elder Paisios".

READ MORE: