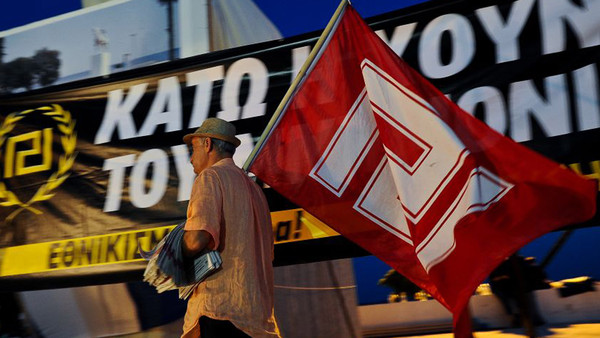 Greece's neo-Nazi Golden Dawn party has penetrated the country's police force, set up caches of heavy weapons in remote locations and trained its recruits to carry out brutal attacks against immigrants and political opponents, according to the country's top security official.
Nikos Dendias, minister of public order and civil protection, said in an interview with the Financial Times that Golden Dawn's cult of extreme violence was "unique" among European far-right groups.
But another reason for taking the investigation away from the regular police force is that it has been infiltrated by Golden Dawn. Some police officers in districts with sizeable immigrant populations have gone beyond colluding with local neo-Nazis to set up political cells within their units, Mr Dendias said.
"I have brought in the internal affairs division of the force to clarify exactly what sort of structures Golden Dawn has within the police," Mr Dendias said. "We know these cells exist, we have evidence. We will take firm measures."
Golden Dawn declined to comment on Mr Dendias's allegations when contacted by the FT on Friday.
Greece's constitution bans the outlawing of political parties. However, a Greek supreme court prosecutor has ruled that the party acted as a criminal organisation, opening the way for a full-scale investigation of its 18 members of parliament and dozens of activist members.
The move to crack down on Golden Dawn follows an escalation of violent incidents in recent months. Analysts say attacks became more frequent because of police foot-dragging over making arrests of Golden Dawn sympathisers and reluctance by politicians to take a strong stand against it.
"I have been concerned about them since the day I was appointed," he said. "We were already investigating but it was the (Fyssas) murder that made clear we had solid grounds to proceed against them as a criminal organisation."
Information that Golden Dawn has stashed offensive weapons in strategic locations around
Greece
appears to be accurate even though none have so far been found, Mr Dendias said.
So

far we have not been able to substantiate these alarming allegations. We're looking in some unusual places  . .  and the search will

continue
- Nikos Dendias
"We are searching across the country but so far we have not been able to substantiate these alarming allegations. We're looking in some unusual places, monasteries in the countryside, for example, and the search will continue."
Some ultraconservative priests in the Greek orthodox church have voiced support for Golden Dawn, bucking the official disapproval of church authorities.
Prosecutors called this week for six more Golden Dawn lawmakers to be stripped of their parliamentary immunity. Among them is Eleni Zaroulia, the wife of Mr Mihaloliakos, accused of sending a 9-millimetre bullet to her husband this week concealed in a pile of underwear she took to Korydallos prison.
Opinion polls show Golden Dawn's popularity has plunged since the stabbing from 11-13 per cent to around 7 per cent, the percentage of the vote it won at last year's general election when it entered parliament for the first time. Nevertheless, it is still the third most popular party behind the governing New Democracy and Panhellenic Socialist Movement.
Yet the government has not gained from the
crackdown
. It is still polling at the previous 20-22 per cent level, neck-and-neck with Syriza, the radical left opposition. And some commentators have questioned whether the move against Golden Dawn might backfire if it is seen to be a politically motivated vendetta by the government.
Analysts say Golden Dawn's voter base is mainly among people hit hard by the country's economic crisis, both young Greeks trying to join the labour market and the over-40s, who feel angry and frustrated at losing their jobs.
The crackdown has sharply curtailed the party's activities both in Athens and more than 50 regional offices that provide handouts of food and also organise regular activities including military-style training for would-be members and torchlit neo-Nazi events, according to Antonis Ellinas, a political-science professor at Cyprus University.
"The number of party events has dropped sharply all over Greece since the stabbing but the opinion polls show that core support for Golden Dawn has not been affected," Mr Ellinas said." This might imply an entrenched acceptance of the use of violence in Greek political culture."
Members of Greece's Pakistani community, one of the main targets of Golden Dawn's attacks, say they do not feel any safer than before.
"It's too soon to say whether the racist attacks will stop," said Mohammed Aziz, a warehouse supervisor and Greek resident for more than 15 years. "It's good the government has finally reacted but we know the neo-Nazis won't give up so easily."