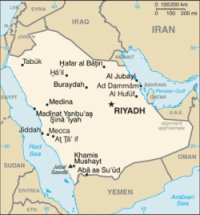 RIYADH, SAUDI ARABIA – The Grand Mufti of Saudi Arabia has once again called for the destruction of all churches on the Arabian Peninsula.
Abdulaziz Bin Abdullah, head of the Standing Committee on Fatwas, made the ruling after Kuwaiti parliamentarian Osama Al-Munawer presented a bill that would ban the construction of any new non-Islamic religious buildings in his emirate, according to Jihadwatch.
However, the Mufti's ruling went further than the Kuwaiti bill by insisting that all exisiting churches be demolished as Islam is the only religion permitted on the peninsula. The ruling is based on the hadith of Muhammed who supposedly said: "There shall not be two religions on the peninsula of the Arabs".
After the consecration of the Church of St. Antonio in the UAE by Cardinal Fernando Filoni in June, several million immigrant Christians workers in Saudi had hopes for the construction of a church in Arabia as well.