LITTLE FALLS — For the leader of the worldwide Antiochian Orthodox Christian Church, beset by worries over his congregation in the war-torn Middle East, it was a night of simple joy in the church's North Jersey community.
Patriarch John X of Syria celebrated a service at St. George Church in Little Falls on Wednesday night that drew hundreds of members of the ancient faith from across the region.
The patriarch — the church's equivalent of a pope — was greeted by eager parishioners, who chanted and held cellphone cameras and video recorders high as he entered the chapel with a throng of clergy.
During the Vespers, or evening, service — said in English and Arabic — John X spoke for about 20 minutes about building unity between the church in the U.S. and abroad, as well as about peace in the Middle East, notably war-devastated Syria.
"We are one church, we are one community and the distances do not divide us, do not separate us," he said through a translator. "We say to you: 'We love you.'"
The Antiochian Orthodox church is the largest Arab Christian church in the world, with 250 million members, including about 100,000 in the United States and Canada.
Parishioners hastily arranged the patriarch's visit, which was scheduled only a week ago as part of a nearly two-week-long stay in the U.S. On Saturday, John X oversaw the enthronement of Metropolitan Joseph, the new leader of the Englewood-based U.S. archdiocese, who also celebrated the service at St. George.
"I am ready to act, ready to serve you, be with you," Metropolitan Joseph said. "I will live with you and die with you."
The patriarch was scheduled to meet with national security advisers in the White House today and has a tentative meeting with the U.S. Department of State on Friday to discuss the conflict in Syria, particularly the plight of Arab Christians, said the Rev. George Krevorkian, hierarchical assistant in the archdiocese.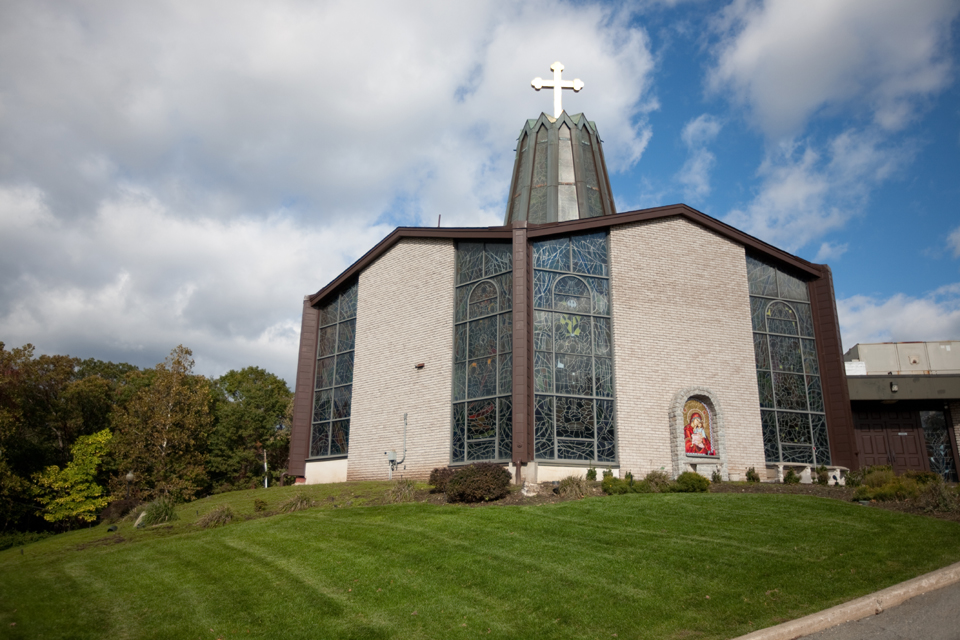 St. George Church in Little Falls
The patriarch's brother, Bishop Paul Yazigi of Syria, was one of two church hierarchs kidnapped by Islamic extremists about two years ago.
During his remarks, the patriarch, wearing black vestments and a gold crucifix, asked worshipers to pray for Syria and other Middle Eastern countries that are being torn apart by violence.
"We know our homeland is undergoing a very tough situation," he said. "We are still hopeful, in spite of all the difficulty we face. We hope that in this Christmas season, this season will bring peace to the Middle East."
John X also spoke repeatedly about his pride in the Little Falls congregation for passing on its faith from generation to generation. St. George was founded in the 1970s, but its original members worshiped for decades before that in Paterson.
"We are proud because, since your ancestors arrived in the U.S 150 years ago, the first thing you decided to do was have a church in the community," he said. "We are proud of you, because you carry in your hearts and chests this unshakable faith that holds forever."
The Rev. Dimitri Darwich, St. George's pastor, said the patriarch's visit was an honor and a rare occasion for an Antiochian Orthodox church in America. There are two other Antiochian Orthodox churches in New Jersey, in Bergenfield and South Plainfield, but St. George was chosen for the service because it has the largest congregation, with about 500 families, he said.
About 40 of those families are recent Syrian refugees whom the church supports with charity, immigration paperwork and in finding jobs, he said.
The pews and balcony were filled with a crowd of about 300 Wednesday night, far fewer than organizers had originally anticipated, because a nor'easter dampened the plans of many nearby churches, Darwich said.
But the poor weather didn't stop people from traveling from as far as Yonkers and Bethlehem, Pa., for the special service.
Cassia Robert, 17, and her 15-year-old brother, Joseph, called the patriarch's visit a "grand" event not unlike the services of their church in Allentown, Pa.
Julia Kalyoussef, 58, of Clifton, who grew up in Syria and is trying to help her sister immigrate to the U.S., said it was important to hear from their leader in a time of crisis.
"We're all looking to him to strengthen us in our beliefs," she said.