Moscow - Patriarch Kirill of Moscow and All Russia has expressed concerns about the situation of parishioners of the Ukrainian Orthodox Church of the Moscow Patriarchate in eastern Ukraine.
"The Ukrainian administration has fully blocked off this region, creating the preconditions for an economic blockade. All Ukrainian banks have closed, people have no money, they can't get their pensions and wages. There is no food and essentials in the shops. Many people die in artillery attacks every day," the patriarch said while meeting with Metropolitan Tikhon, the head of the Orthodox Church in America, in Moscow on Wednesday.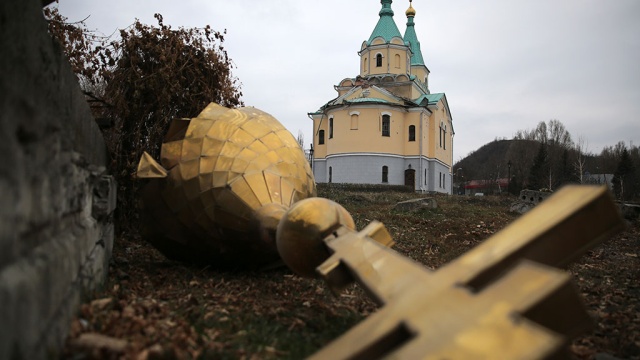 Ukrainian Orthodox Church (Moscow Patriarchate)
The patriarch said that Ukrainian artillery attacks are destroying Orthodox churches.
"In central and western Ukraine, we are now seeing attempts to take over churches, and it is done under the guise of some referendum, when all residents of a populated area, of which many have no relation to the parish, are gathered and asked 'Are you for Kiev or for Moscow?' without any procedures. The people, of course, say 'For Kiev.' After that, churches are taken over," he said.
St. John Kronstadt Orthodox Church, destroyed by Kiev troops in the city of Kirovskoye, in the Donetsk Region
The patriarch reiterated that these actions are "absolutely illegal and they constitute violence against the people."
Church of St. Sergius of Radonezh Damaged By Shelling on Its Feast Day
"If our flock lock themselves in churches, they break the locks, these people break into the buildings and they often beat up priests and believers. Such actions are initiated by the so-called "Kiev Patriarchate". But people bravely stand up for faith, the clergy and the bishops. It shows that the Ukrainian Church still has its strength and is capable of influencing Ukrainian society," the patriarch said.
The patriarch said Greek Catholics are also taking advantage of this situation and it can be said that "our Church is now going through the most difficult period in the contemporary history of Ukraine."
A dead priest, hit by shrapnel when his church was bombed.
The patriarch said the Russian Church prays daily for a solid and fair peace to come to Ukraine.
"We are talking about a hard, fratricidal civil war. Unlike other religious groups in Ukraine, our Church understands that it has only one position in the face of this conflict: to be a peacemaking force. We are avoiding any political bias and unilateral support of any parties to the conflict," Patriarch Kirill said.