Hankering for a burger of presidential proportions? Well food lovers Down Under have paid tribute to this year's G20 summit in Australia with a range of gourmet burgers and drinks, which send up Obama and Putin (but go down so well.)
While more than one eatery in Queensland has rolled out specialty items in honor of the annual summit, perhaps no one reached the stomach stuffing proportions of Brisbane's own Burger Urge's.
Run by Sean and Colby Carthew, for three days only, diners can sink their teeth into buns bearing the name of Russia's own Vladimir Putin.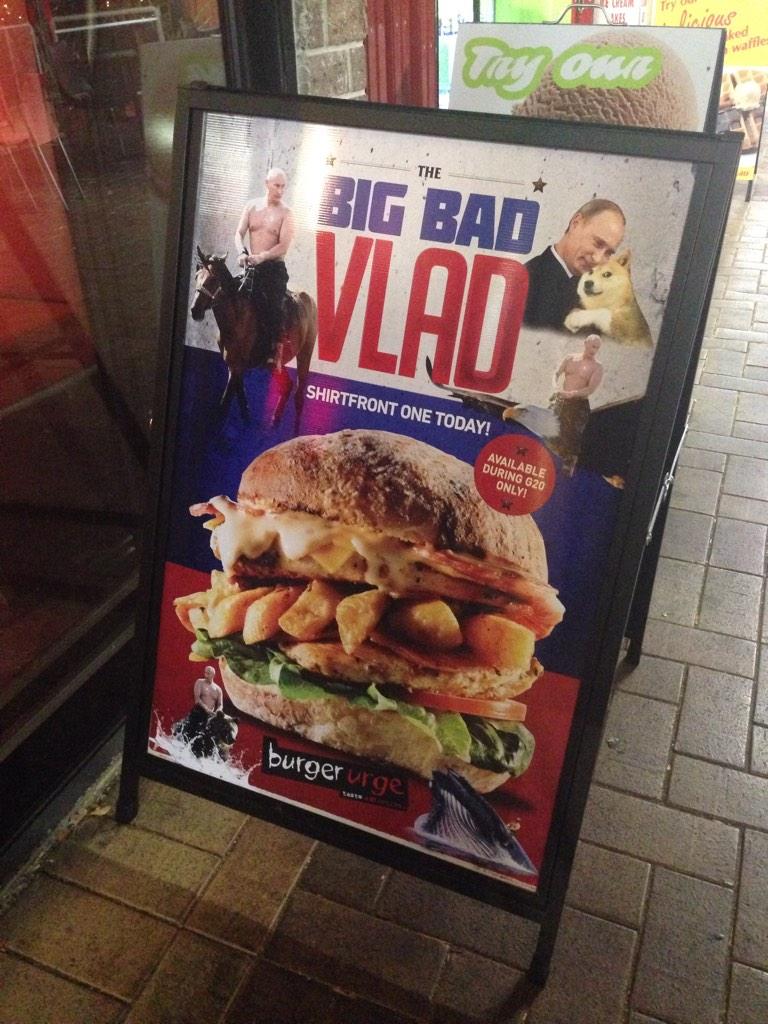 As far as burgers go, the Big Bad Vlad certainly lives up to its reputation. Stacked with two chicken breasts, bacon, lettuce and four slices of cheese with a side of fat fries and chilli mayo, the Brisbane bros admit a bit of Pepto Bismol might be needed for anyone who dares to give it a go.
"Vlad, on behalf of Burger Urge, we challenge you to come up here and try your burger and when you do I'm pretty sure you'll need more than two warships to carry you home mate," the lads at Burger Urge told.
One satisfied customer couldn't help but make reference to Putin's beefcake image, saying the Big Bad Vlad is "almost as tasty as Putin with his shirt off."
Not to be outdone, Brisbane International Terminal's Windmill & Co restaurant is dishing out the Big Obama Burger through November. Just over 10.5 inches tall, the towering Angus beef patty on a brioche bun is decked out with Colby Jack Cheese, caramelized onions, spinach, tomato, coleslaw, dill and onion rings.
For those hoping for something equally meaty but a bit more sweet, the Alfred & Constance hospitality complex is serving up The 'Big O' pineapple cocktail and Obamarama Burger, in honor of the US Commander in Chief's home state.
"We are having the Obamarama party to welcome President Obama to Brisbane and show him how we, as Queenslanders relax and celebrate," Emily Wornes, the duty manager at Alfred & Constance, told.
"We thought he'd be a little bit stressed after the conference [G20], so we wanted to create an atmosphere where he could let his hair down.
We know that he is from Hawaii so we thought why not make him feel at home? Give him a lei, a Piña Colada, an Obamarama Burger and help him chill out," she continued.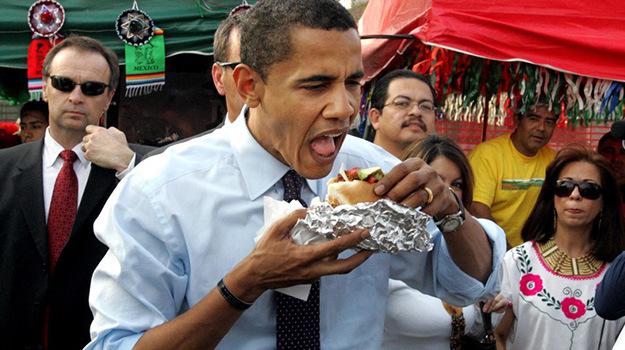 For those who would rather toast the global 20, more than one cocktail (or ale) is on the menu.
If it tickles your fancy to throw back with Vlad, Pony Dining in Brisbane is serving up the Disputin Putin; a Kettle One Vodka cocktail with sweet vermouth, orange zest and passionfruit stirred over ice.
And according to the Brisbane Times, a beerfest at the Bacchus Brewing Co in Capalaba is offering 20 brews all inspired by the leaders in attendance.
While Russia's Red Army kvas and America's Peanut Butter Jelly Time beer are announced with little fanfare, the bar let loose their sharp tongues to whet their palates for the home brew.
Dubbing it "Abbott's Budget Smugglers Redneck Ale," the bar promises the bright red barley-based beverage is made with "All Australian" ingredients.