Violent clashes broke out in Belgium as more than 100,000 protesters marched in Brussels against the government's austerity measures. Police deployed water cannon as dockworkers, metalworkers and students took to the streets.
The violence flared up at the end of an otherwise peaceful protest, with tear gas deployed as some radical demonstrators hurled objects at riot police and launched attacks with the barriers against the officials. Some set off colored smoke flares.
At least 14 people were taken to hospital following the violence, according to national daily HLN.be.
The Belgian government which assumed power just a month ago has caused unrest with promises to raise the retirement age, cancel a wage rise in line with inflation and cut health and social security benefits - moves that undermine the country's welfare state.
People supporting the march have said that the austerity cuts only target workers while unfairly letting businesses off the hook. The government is intending, through the cuts, to save some 11 billion euros ($13.8 billion).
"The signal is clear. People are angry, livid. This government's policies are totally unbalanced," ACV union chief Marc Leemans told Reuters.
The union estimates around 120,000 have turned up for Thursday march, dockworkers, metalworkers and students among them.
Protesters' banners included: "Eliminate the causes of the crisis, not the poor," and "Hands off the pension age."
A small group set a police motorcycle on fire.
More protests are planned, including weekly regional strikes from November 24 and a national strike for December 15.
The mass-action is also seeing a work slowdown which is having a detrimental effect on public institutions such as schools and post offices, as well as the ports of Antrwerp and Zeebrugge.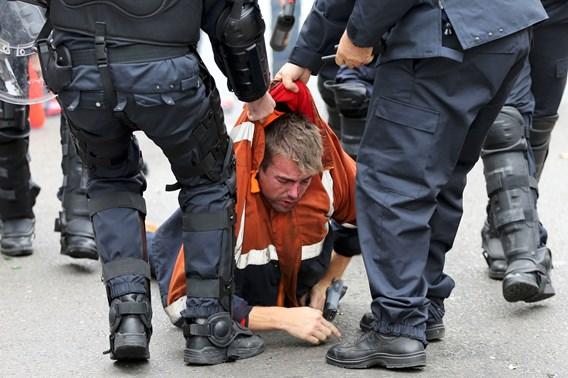 "Workers rights have been cut - not only the wages but the rights and the capacity to continue to know what are the main guidelines of the European societies. Because now I think we don't know it anymore," Marisa Matias of the Confederal Group of the European United Left told.
"In southern Europe - in Portugal, where I'm from - these measures do nothing but increase social problems."